Grace is a helpful and pioneer for the installation of solar panels for apartments in Ahmedabad, Gujarat. Installing solar panels to power your own apartment present an amazing chance to cut your energy charges and protect yourself from power bills. The cost of solar panels for apartments is highly depending on which you are choosing it highly measure with KW. The installation of solar panels for apartment is done where each apartment has its own electricity meter and receives individual bills. Providing heating cooling and hot water for apartment building uses of lots of energy so creating a residential environment in energy efficient building is an important goal for the future.
Features
Get solar energy free
No maintenance
Higher saving from electricity bills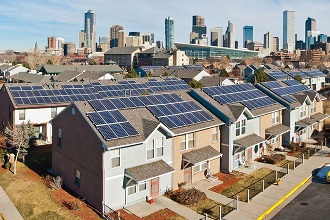 Know how graces do the installation of solar panels for apartments
First thing is the location the team member will see the first location that it is suitable or not
The average of space for solar panels installation is 1.7 meter long and 0.8 meter wide.
The person should have planning permission also.
They will see how much electricity was used first and now how much is needed so they will understand energy use and all.
At last they will choose right solar system.