A solar mounting system either rooftop or ground mounted is an integral feature of any solar installation particular for pv projects. As we see that solar mounting structure is installed correctly will provide the structural support a solar system needs in order to protect it from wind-induced failure and other potential from weather also.
Grace manufacture solar mounting structure and auxiliary parts having least capacity stand at 40,000 MT per each annum which translate approximately 1000 MW worth of solar capacity. Grace is also having in house instrument tools that supply to the requirement of project with various sectional requirements. Solar mounting structure assumes a critical part in proficient working of a solar power plant. Components of balance of system such as inverter DC cables junction boxes transformers are readily bought from the equipment suppliers.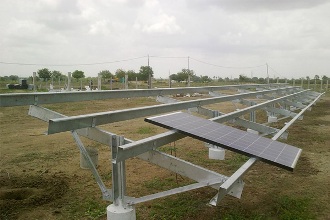 The advantages of solar mounting service the requirement of various customers thus establishing us as the market leader in solar module mounting structure. A good solar mounting structure should be easy to install made from quality rust free materials or materials with sufficient protections.
How we work for manufacture solar mounting system
One of the first things to check with a mounting system will work in your place or not so our expert will see the entire thing including there :
Location
Building heights
Panel size
Roof Zones
Roof frame and fixing specification
Testing results
The grace manufactures some different type of solar mounting structure as given below.
Ballasted mounting structure
Grace is one of pioneer for manufacturing ballasted mounting structure in Ahmedabad, Gujarat. Ballasted mounting systems are mainly deployed on flat concrete roofs. We are planned with a small panel in landscape arrangement to limit the wind loading on the array. We are utilizing exceptionally new technology and high quality of equipment for manufacture ballasted mounting structure.
 Advantages of ballasted mounting structure:-
It is suitable for all module types
Structure is fixed as ballast so there is no damage to the roof.
Easy and fast installation
Ground mounting structure
Grace manufactures highly quality ground mounting structure. Ground mounting systems are often used for medium to large scale solar system is occasionally used in smaller system such as off-grid projects or projects where roof space is not suitable. There are various types of ground mounting structure is there according to your choice use it. Grace provide wide range of pv mounting systems in various size to offer freedom and flexible to support every type of PV module.
Features:-
Less maintenance
No noise
Warranty for 20 years
Carport structure
Grace manufactures highly quality carport mounting system in Ahmedabad, Gujarat. Carport structure mounting structure adopts stainless steel bolts beautiful and powerful with services life up to over 25 years. Solar carport structure plants from KW to MW with some parts factory before delivery which helps to save onsite installation time and labor cost for clients.